Sleep Problems? Snoring? Grinding Teeth? Dr. Clifton can possibly help you with that.
Sleeplessness can be caused by eating cured meats, aged cheeses, caffeine and/or chocolate.
Snoring and interrupted breathing can lead to heart trouble. A comfortable jaw repositioner can be very helpful at nighttime.
Dr. Clifton can help reduce the bad effects of teeth grinding by making a protective mouth guard that balances the bite excursions.
Negative reading, bad TV reports on news and in programs can cause sleeplessness, and can be reversed by 40 second of hearty belly laughing before bedtime. For more info about this and more cancer reducing techniques read Norman Cousins' "Anatomy of an Illness".


WHITENING - $199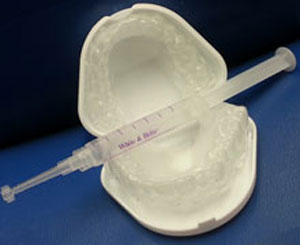 We specialize in home tooth whitening treatment with custom trays. The trays can be re-used for future treatments. Unlike "Zoom", our trays allow you to whiten all teeth, not just the front.
To make an appointment with Dr Clifton, call (937) 325-9213 or email by clicking here.